by Erin Eisen
HAS Trustee

As it is February—still winter—and it is too early to do anything out in our gardens, we thought it would be fun to canvas some of our HAS Board members and ask what plant they thought stood out this past year. Some of their favorites just might become yours this next year!


Photo Credit: Chella DiMenza
Chella DiMenza: This beauty is Eriophyllum lanatum 'Takilma Gold' or Oregon Sunshine. It has a wonderful bloom of bright yellow bi-colored flowers over a mound of evergreen woolly gray foliage. It blooms from spring to fall. A native wildflower, it is growing in a Zone 4 environment at 8500 ft. It likes full sun, with low/medium water. Deer leave it alone! The pollinators love the bright flowers. I have been able to divide the root ball of the original plant and move to other areas with great success.

Photo Credit: Krzysztof Ziarnek, Kenraiz, CC BY-SA 4.0,
via Wikimedia Commons
Nancy Taylor: When arriving in Colorado six years ago, knowing nothing (NOTHING) about gardening here, I learned that Lady's Mantle can be a good friend, not a nuisance. A local landscaper had planted some in one of our semi-shady flower beds where over time they mushroomed into a gigantic width, encouraging division and donation.

Interestingly shaped leaves and chartreuse flower bracts are redeeming qualities. The flowers can also be dried for arrangements. Lady's Mantle Alchemilla A. mollis) grows 12-14″ tall.
Photo Credit: Terry Webb:
Terry Webb: I always thought this was Salvia 'Heatwave', a real hummingbird magnet. It survived the light freeze/snow in early September and just bit the dust with this past week's hard freeze (late October). It has seen several years in my yard, which has poor soil and is windy and dry. I watered it only a couple of times this year although it is planted at the base of a large rock (which retains moisture). I leave it up over the winter, cutting it back in spring when I see a little green coming up. The problem is, it might be an Agastache (my investigation yielded confusion)! It grows to be about 36"x40" high, and is deer- and rabbit-resistant.
Photo Credit: Terry Webb
Terry Webb: This groundcover, Teucrium cossonii, can be purchased from Perennial Favorites and High Country Gardens. Sometimes it is sold as T. aroanium. I learned from Panayoti Kelaidis, in a blog called 'A Tangled Tale of Two Teucriums', that cossonii is the only correct name. This is also deer- and rabbit-resistant, and seems to appreciate dry conditions. It is 2-3" high, and 28" wide at two years. Pollinators love it. I love it too.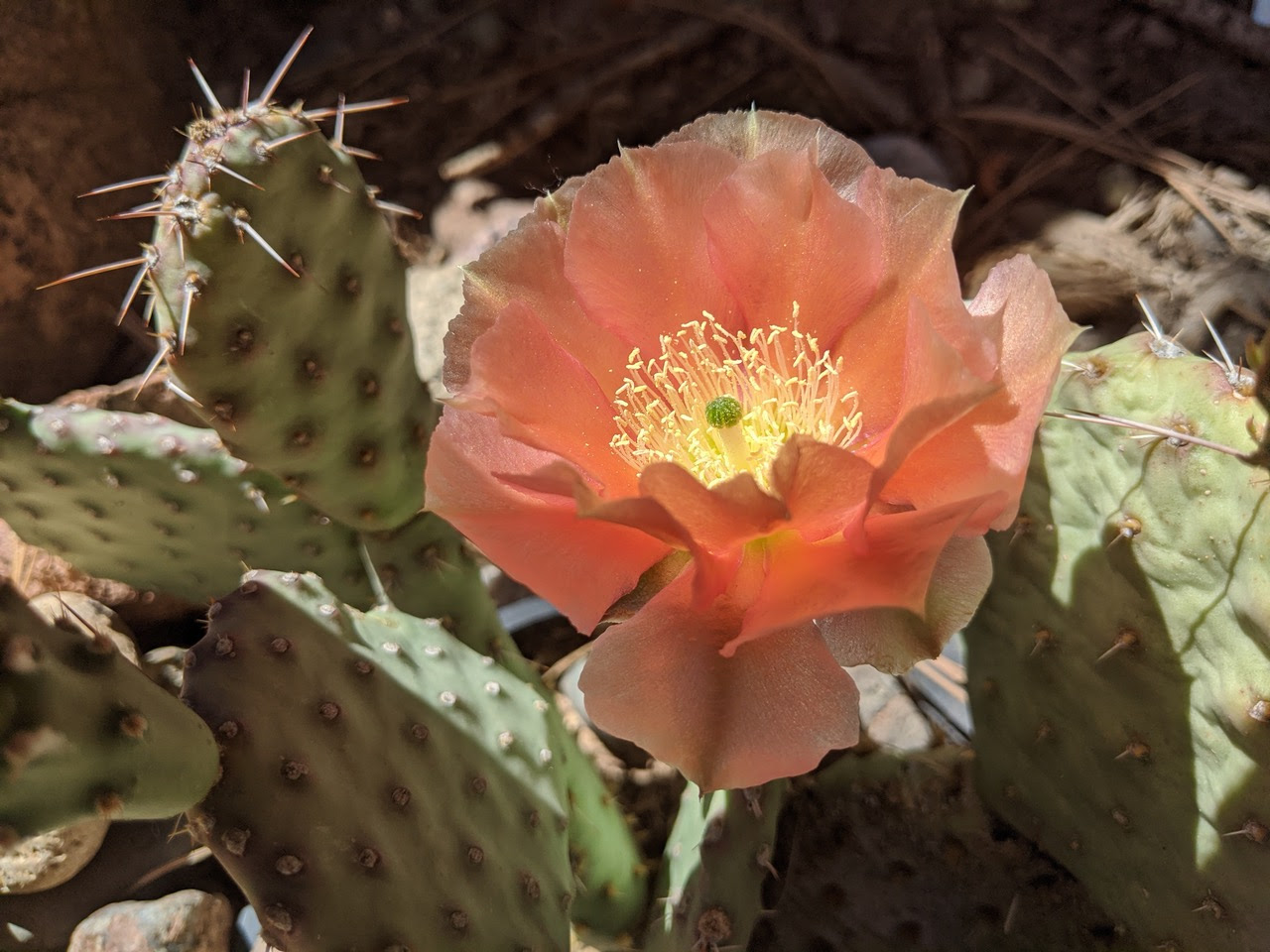 Photo Credit: Allexia Arcuri
Allexia Arcuri: My favorite plant this year was my Opuntia Cactus "Peach Pie", which I bought from Kelly Grummons. It is a cold hardy cactus and did not disappoint. I had five flower blooms, which were like beautiful little apricot jewels shimmering in the sunlight. During winter, the cactus pads develop a purple wash. This plant is truly a diamond in the rough!
Photo Credit: Plant Select
Diane Engles: The plant that has performed splendidly for me this year is Windwalker™ Royal Red Salvia (darcyi x microphylla Windwalker™) from Plant Select. I bought four plants in 2.5 inch pots this spring and they grew in quickly reaching 3′ tall by 2′ wide, blooming repeatedly throughout the summer into September. This salvia is hardy to Zone 5. I was concerned that the color might be hard to combine but it is a crimson, dusky red that looks good with many colors, including pink. It was fun to watch hummers feeding on the blooms–it truly is a hummingbird magnet! I'm looking forward to an even better show next year.

Photo Credit: Susan Flynn
Susan Flynn: I love my Moonlight Broom (Cytisus scoparius 'Moonlight' ). It is just lovely every single year, no matter what, and it is so fragrant as well. This is a picture I took this past spring. It grows up to 5'x5' and is hardy to Zone 5b.




Photo Credit : Erin Eisen
Erin Eisen: My favorite plant, unexpectedly, was an annual that outperformed itself in my front porch containers. This picture is a result of the growth of small 2-3" pots of Begonia Waterfalls Encanto Pink (Beekenkamp Plants), combined with Proven Winners' Graceful Grasses Toffee Twist.
I have some serious deer issues, but they stayed off the front porch and didn't touch my planters (at least until the fall when they started getting hungry). I may have to try for a repeat performance this year!