by Diane Engles, HAS Trustee
White Echinacea with Eryingium
Photo Credit:  DIane Brunjes
Echinacea — bless you!  It does sort of sound like a sneeze, but Echinacea or coneflower routinely blesses our gardens with an easy to grow and hardy group of flowering perennials.  Echinacea has a long bloom season, is hardy, drought resistant, and is a pollinator magnet. If seed heads are left on, they will provide seeds for birds in fall and winter; goldfinches in particular love them. Echinaceas are also excellent cut flowers. Deer and other grazing animals will eat the young Echinacea plants but normally avoid mature plants, unless they are desperate.
Coneflowers are in the aster family and related to daises, asters, chrysanthemums, zinnias, and other members of this large family. There are nine species of coneflowers native to eastern and central North America. The most popular garden coneflower is the eastern purple coneflower (Echinacea purpurea). Others in the genus are narrow-leaf coneflower (Echinacea angustifolia), pale purple coneflower (Echinacea pallida), Tennessee coneflower (Echinacea tennesseensis) and  yellow coneflower (Echinacea paradoxa). All are deciduous herbaceous perennials, and all have a taproot except for Echinacea purpurea. They form a slowly expanding clump that may be divided every few years to maintain vigor.
The wild-type echinaceas are typically 2 ft wide and 3-4 ft tall. Modern hybrids have been selected for smaller stature with some as small as 1 ft high. In the wild, a single plant can live up to 40 years. In the garden, they are best when divided every 4 years. Most are hardy to at least Zone 4. They prefer full sun but can tolerate a little shade; too much will make them leggy and prone to flop over. Coneflowers are not picky about soil type but don't tolerate wet or mucky conditions.
Echinacea also has medicinal uses, primarily derived from Echinacea purpurea and Echinacea angustifolia. Native American Great Plains tribes have used Echinacea as a cure-all for over 400 years. These Native Americans introduced European settlers to the plant and they used it to treat many diseases including diphtheria and scarlet fever. Echinacea was once the most widely used plant remedy in the U.S. and Europe until the dawn of the pharmaceutical age when it fell out of favor. Over the last couple of decades, echinacea has once again become a popular herbal remedy.  It is thought to boost the immune system to help fight off illness such as colds, flu and infections although scientific studies have had mixed results.
Narrow leaf echinacea (Echinacea angustifolia subsp. angustifolia) is native to central Canada and the central U.S. It ranges from Saskatchewan and Manitoba in the north to Arizona, New Mexico,Texas, and Louisiana in the south. Its petals are more drooping than purple coneflower and are a paler color. An interesting fact about Narrow-leaved Coneflower is that, in 1805, Lewis and Clark sent Thomas Jefferson samples of it from Fort Mandan in what is now North Dakota. Narrow leaf coneflower grows about 2 ft high and up to 1.5 ft wide. It is hardy to zone 4.
Pale Purple Coneflower (Echinacea pallida) can grow up to 3 ft tall and 1-2 ft wide. Its elegant narrow pale purple petals droop gracefully from a large central cone. It blooms profusely from early to late summer and is a good cut or dried flower. Echinacea pallida looks great in beds, borders and prairie style gardens, combining beautifully with rudbeckias and blue flowering perennials such as geraniums and catmints. It is hardy to Zone 3.
Tennessee Purple Coneflower (Echinacea tennesseensis) was only the second plant to be put on the Fish and Wildlife Service's Endangered List. The rapid expansion and development of the Nashville, Tennessee area and its suburbs in the mid to late twentieth century became an immediate threat to its habitat, which was limited to a 14 mile radius covering 3 counties in the area. A conservation plan was implemented and this coneflower now no longer needs protection. Plant Select®  has introduced it to celebrate its recovery. It holds its purple-pink petals erect and blooms from June to August. Growing to 2 ft tall and 18 inches wide, Tennessee purple coneflower is hardy to Zone 5.
Yellow Coneflower (Echinacea paradoxa) gets its paradoxical scientific name because it is the only yellow species. It is also known as Bush's coneflower and Ozark coneflower. It is native to Arkansas, Missouri, Oklahoma, and Texas. Yellow Coneflower grows 2-3 ft tall and up to 1.5 ft wide with fragrance as a bonus. Its petals are narrow with a large coppery cone. Echinacea paradoxa is the species most often used to make some of the double flowered and brightly colored coneflower hybrids available today.  It combines well with the purple coneflowers and looks great in native plant gardens and naturalized areas. It is deer resistant and hardy to Zone 5.
Purple Coneflower (Echinacea purpurea) is native to moist prairies, meadows and open woods of the central to southeastern United States. Tony Avent of Plant Delights Nursery calls it  "one of the finest native perennials in the U.S."  Widely adaptable to different soils and drought tolerant once established, it is hardy in almost every state. Its daisy like flowers can reach 5 inches across, with slightly drooping petals and a brown central cone. Its fibrous root system makes it more amenable to dividing and transplanting than the tap rooted coneflowers. Purple coneflower grows 2-5 ft tall, 1-2 ft  wide and is hardy to Zone 3.
Purple coneflower has given rise to a huge number of cultivars and hybrids. (Hybrids are most often created by crossing with Echinacea paradoxa.)  For instance, Bluestone Perennials offers 31 different echinaceas. I'll stick to some tried and true selections which are widely available, but searching for the cultivars and hybrids will turn up many single and double flowers with colors ranging from green, white, pink, to various shades of orange and red. Some are also fragrant. It is truly an amazing assortment.
The hybrids need richer soil and more moisture than the species. A breeder of hybrid echinaceas, Terra Nova Nurseries offers a tip for success with the hybrids. Pinch off the blooms their first season to force the plants to form a good root system to get them through the winter. That does requires discipline! Plants in quart- or gallon-size containers won't need this treatment if their root systems have had a chance to grow to fill the pot. But if you're working with plants in small, 2-4 inch pots, it's best to pinch off the blooms or remove the bloom stem.
Much effort has been put into creating double flowered echinaceas. There are new hybrid creations coming to market constantly. They typically have a pompom or "mop" center surrounded by ray petals. I've included photos of a few of the multitude of hybrids available. They vary in height and come in a wide range of colors. One thing to keep in mind when Echinacea shopping is that the double varieties produce little or no nectar and are generally not useful as pollinator plants despite being very showy to us in the garden. Most are hardy to Zone 4.
Left to right: Hot papaya, PUFF®Vanilla, CARA MIA™Yellow,  Cone-Fection™ Butterfly Kisses
Photo Credits: Plant Delights Nursery, Terra Nova Nurseries, American Meadows
Two excellent purple echinacea cultivars are Magnus (Echinacea purpurea 'Magnus') and  PowWow® Wildberry (Echinacea Purpurea 'PowWow® Wildberry' ). Magnus is a cultivar from Europe that won the Perennial Plant Association's Plant of the Year award in 1998. This seed strain of our U.S. native was selected by Sweden's Magnus Nilsson for its vibrant pinkish purple color and strongly horizontal petal formation. Magnus grows up to 4 ft tall and 18 inches wide. It is hardy to Zone 4. PowWow® Wildberry is shorter and has darker red-purple flowers. Growing to 20" tall and 16 inches wide, it will fit into the front of borders or in smaller gardens. It is hardy to Zone 5.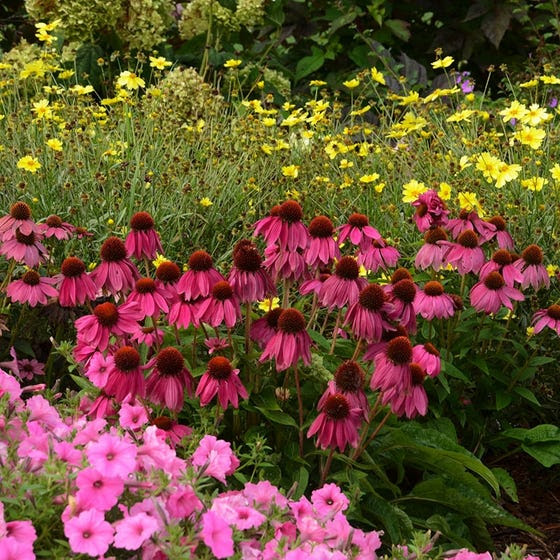 Left to Right:  Coneflower Magnus, Coneflower PowWow® Wildberry
Photo Credits:  Perennial Resource, High Country Gardens
Among the white cultivars and hybrids, PowWow® White (Echinacea purpurea 'PAS702918') is a very floriferous single. It sports pure white flowers with a golden yellow cone measuring 3-4 inches across with wide, overlapping, reflexed petals. It is a bit shorter than purple coneflower growing to 18-24 inches tall and 15-18 inches wide. It can be grown from seed. A taller cultivar that was introduced in 2004 is Fragrant Angel (Echinacea purpurea 'Fragrant Angel'). It grows up to 30 inches tall and 2 feet wide. The sweetly fragrant blooms are up to 5 inches across with a double row of white petals and a coppery center cone. Both coneflowers are hardy to Zone 4.

Left to Right:  Echinacea PowWow® White, Echinacea Fragrant Angel
Photo Credits:  High Country Gardens, Terra Nova Nurseries
In the orange and red category, Tiki Torch (Echinacea 'Tiki Torch') and Tomato Soup (Echinacea 'Tomato Soup')  stand out. Tomato Soup is a red hybrid single introduced in 2009 by Terra Nova Nurseries — a color break for the genus. The vigorous clumps are topped all summer with large 5  inch flowers of bright tomato red. It Grows up to 32 inches tall and nearly as wide. High Country Gardens states that it does require "perfect" growing conditions to do well in the western U.S. Tiki Torch was introduced in 2004 by Terra Nova Nurseries and has proven garden worthy over the years. Its 5 inch pumpkin-orange flowers are borne on vigorous plants that stand tall without staking. It can grow to 3 ft tall and 2 ft wide.  Both these coneflowers are hardy to Zone 4.

Left to Right:  Tomato Soup, Tiki Torch
Photo Credits:  Terra Nova Nurseries
A standout yellow cultivar which does well out west is from the Sombrero® Series. Echinacea Sombrero® Sandy Yellow (Echinacea purpurea 'Balsomselo') is vigorous and fragrant with sandy-yellow flowers that hold their color in full sun. It is shorter in stature, growing to 22 inches tall and wide and is hardy to Zone 4.
A uniquely colored purpurea cultivar is Echinacea Green Twister (Echinacea purpurea 'Green Twister'). The outer edge of the petals are yellow-green and bleed into a pale, lilac-pink in the center, surrounding a bronze cone. Green Twister grows to 3 ft tall and 2 ft wide. This cultivar may be started from seed and is hardy to zone 3. We offered Green Twister at our 2019 Gigantic Plant Sale and it sold out quickly.
To end our tour of the echinaceas, we'll look at an award winning hybrid that provides you with a ready made mix of colors — Cheyenne Spirit (Echinacea x hybrida 'Cheyenne Spirit'). It will bloom the first year from seed and produces a mix of flower colors in red, orange, purple, scarlet, cream, yellow and white. Cheyenne Spirit won the 2013 AAS (All-America Selections®) award, Europe's FleuroSelect Gold Medal award for garden performance, and has gained in popularity ever since. The plants grow up to 30 inches tall and 20 inches wide. Cheyenne Spirit is hardy to Zone 4.
For further reading, I recommend Dennis Carey and Tony Avent's comprehensive article on Echinacea which was published in 2012. It covers cultivation, taxonomy, history and has detailed information on many cultivars and hybrids.  You can read it here: https://www.plantdelights.com/blogs/articles/purple-coneflower-echinacea-purpurea-plant
Plant Select® details the conservation of Tennessee Conflower here: https://plantselect.org/plantstories/a-conservation-success-story-tennessee-purple-coneflower/